Looking for an answer to the question "Where am I now?" Need to know your current location on the map? Wondering about the latitude and the longitude of your current location? My location pin shows where you are now if possible.
My location
My Latitude and Longitude
0.0
,
0.0
My GPS Coordinates
0.0
,
0.0
Want to share this information with your friends? The website where-am-i.net is a very simple tool to find out your correct geographic location on the map.
There is nothing you should do: by using your log information, the map below will show my current location on the surface of our planet.
Regardless of where you are at the moment, somewhere high in mountains or somewhere deep in forests, in the extreme North or in hot deserts of Africa, you'll get a very fast and absolutely correct answer to the question, what is my current location on map. All you need to have is a stable internet connection and a device with a web browser.
After you let where-am-i.net show your location, my location now with latitude and longitude will appear in the form above. To see your location on the map you have to let your browser share your location.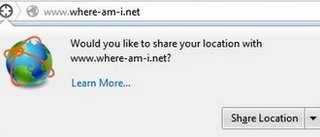 Now you can also get your GPS coordinates of your current location degrees, minutes and seconds (DMS).